Upon returning home from your Green Rocks Lodge stay you are bound to be blessed with some fish fillets from your catch. The lodge staff will have professionally cleaned the fish. The fillets will be packaged in high strength, commercial quality vacuum sealed plastic. The lodge will provide and pack your fish in airline approved insulated boxes. This will allow you to get your catch home in a safe frozen condition. You'll be tired from your trip and travel home. Just put the fish in your freezer and get some rest.
Later you'll be ready to start enjoying those beautiful fillets that are in your freezer. My message today describes my favorite ways that I have enjoyed both the halibut and salmon that I've caught while staying at Green Rocks Lodge.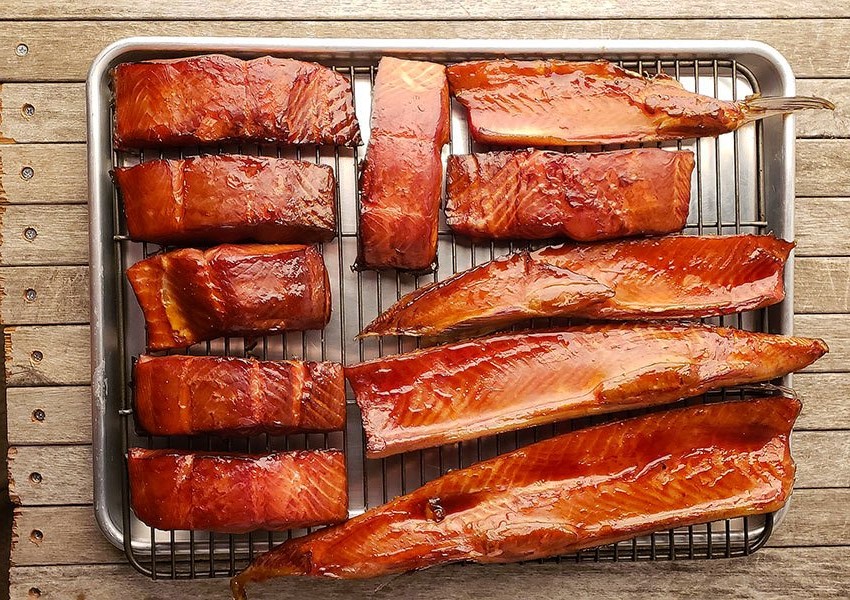 Smoked Salmon
I'll start with salmon, usually either Kings or Cohos (Silvers). You might also catch Sockeyes and/or Pink Salmon, depending on your timing and fishing location (ask Lodge staff for help on this). I truly enjoy salmon that is smoked then shredded and put on a toasted sesame bagel with cream cheese. Add some thin sliced red onion, and sliced garden fresh heirloom tomatoes. Because it's your smoked fish, you can really stack up the meat chunks on top of the cream cheese (maybe with chives….. Oh-Baby!). Likely more than you'll ever get when ordering at a restaurant. That's why I like smoked salmon on a bagel made my way.
Let the Lodge Do the Work
Green Rocks Lodge staff will smoke your salmon fillets for you. Then they'll vacuum seal and freeze them in preparation for you to take home. This takes a few days for them to do. This means that if you want to bring home lodge-smoked salmon then you need to target catching those fish early in your stay. Talk to the staff on your first day there to get the procedures they want you to follow upon harvesting your catch. Get clear direction on how they want you to bleed your catch, etc. The staff will follow up to finish the fish processing to insure the best quality fish fillets go into your fish boxes headed home.
Smoking Salmon At Home
I've smoked salmon fillets that I've brought home from Green Rocks Lodge (caught late in the week with no time available for staff to do this for me). My results have been excellent. First off, I thaw the frozen package of salmon fillets by immersing it in a pot of water at room temperature for a couple of hours (no microwave thaw). I then follow simple procedures listed for my electric smoker (Little Chief by Luhr-Jensen).
I use a simple brine recipe that utilizes spring water, non-iodized salt, and sugar to soak the fillets in overnight in the refrigerator (or cooler in a ziploc bag submerged in ice slurry). Be sure to rinse the fillets to clean off the excess salt. Then tamp the fillets dry with a paper towel to remove excess water. Let the fillets sit in the open, perhaps back in the refrigerator with the flesh side facing up and uncovered. This will allow the critical pellicle, or thin film, to form on the surface of the flesh. The pellicle is that wonderful feature that turns a reddish brown and holds that amazing smoke flavor on your salmon.
Alder & Salmon, Oh Yah
Alder is the best wood to smoke your salmon with. I typically go through two pans of alder wood chips (about an hour per pan) for each batch of salmon that I smoke. I leave the fish in the smoker for about 8 hours or so of low heat. This dries the meat some, producing a firm texture. I put the fillets in a gallon Ziploc bag and then into the refrigerator overnight. Chilling the smoked fish firms it up even more. The smoke flavor seems to permeate the meat better when allowed to rest overnight. Then it's time to load it onto the toasted bagel that I referenced earlier. Bon apetit!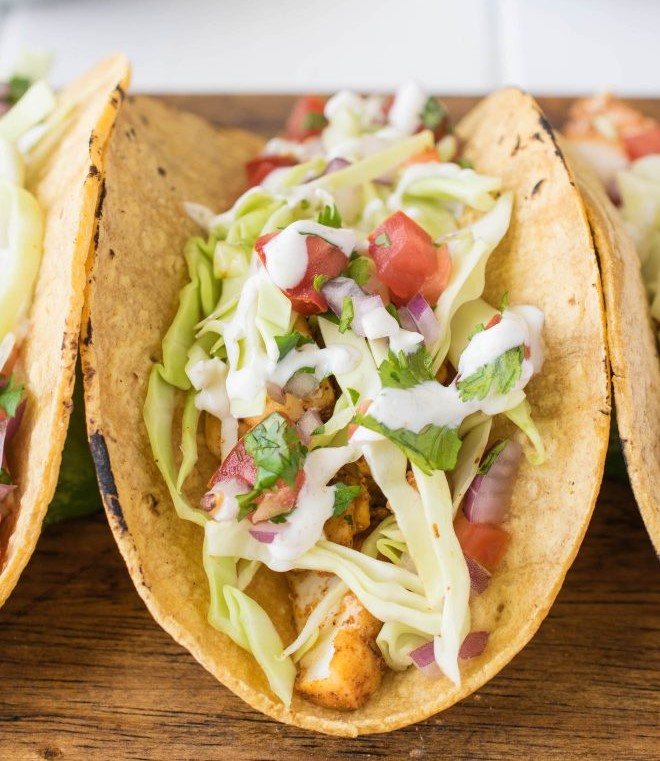 Grilled Halibut Fish Tacos
I truly enjoy grilled Alaskan Halibut fish tacos. I like my halibut meat cooked on the gas grill over a hot flame (with a special grill surface to keep the fish from flaking/falling through). Grilled fish tacos means marinating the halibut fillets that I've previously skinned. Be sure to thaw the fillet packs as described above for the salmon. I then douse both sides of the fillets with olive oil and fresh squeezed lime juice. After that I liberally sprinkle some chili powder on each side followed by a more moderate dose of both garlic powder and onion powder as well as salt and black pepper.
It's All in the Slaw
Fish tacos aren't fish tacos without the proper topping to go on them as they are loaded into the corn tortillas ready to eat. That crazy good topping that I'm referring to is a lime/cilantro based coleslaw. Start with half a bag of coleslaw mix from the grocery store (good for 6 people or so). Mix in a couple tablespoon of mayonnaise and about a quarter cup of sour cream. Chop up a handful of fresh cilantro into a fine shred before mixing in with the coleslaw. Then take a whole lime and run it on a grater to get the zest from it to add to the coleslaw. Lastly, squeeze the juice from that lime into the mix and stir it one final time.
Simple Grilling Basics
Put the marinated halibut fillets onto the grill and close the lid. Let them cook three minutes or so per side (timing depends on fillet thickness). When finished the meat should be pure white when flaked, not any opaque. Put some corn tortillas in a foil wrap in the oven a 300F for a few minutes while the fish is cooking. Spanish rice is a good accompaniment to go with the fish tacos along with some "cerveza" if you are so inclined.
You wanna talk about some of the finest eating you'll ever do? Start by heading out to Green Rocks Lodge. Catch some pretty fish and let the lodge staff handle it from there getting your fish ready to transport home. Follow the recipes listed here and you are set! Enjoy, you earned it!